Having the attic properly insulated is important in every type of structure. It is important to the well-being of the residents of the premises due to health issues that unsealed attics might cause. It is important for power saving due to loss of temperature control caused by heat or chill escaping or entering through the attic, and it is also important for the maintenance of the structure as well. Any room that lacks proper insulation will require more frequent cleaning and will create more problems to deal with. In order to deal with these issues, our Air Duct Cleaning West Hollywood experts offer professional attic insulation services for both residential and commercial structures.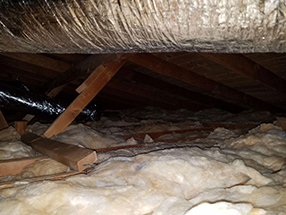 Insulation Replacement & Installation
Every now and then, a structure's insulation will need to be renewed. This process will involve both the removal of the old material. When properly executed this process should include 3 main steps:
Removing the Old Material
The first step is to remove all materials and elements of the old insulation – leaving the area clear for work. It is also important to carefully dispose of any discarded material, as it might be infected with bacteria, due to wetness, mold, or rodent feces.
Cleaning & Decontamination
This step is essential in order to ensure your attic is clean and free of all damages and threats it may be inflicted with, due to the hazards mentioned above, that may cause infestations, disease and other severe health issues. The sanitation will leave the area clean and healthy to those occupying or frequenting the structure.
Re-Insulating
The final stage is the installation of the new insulation, which has to be properly done to ensure its efficiency. Furthermore, a thorough and professional job will also enhance the performance and lifetime of the insulation.
When we remove and replace insulation, we make sure it is clean, well installed and safe for all those who stay in the structure, whether they work, visit or live there.
Have any questions or need our assistance? Schedule your appointment online or give us a call any time!